Our Craftsmanship
Stubborn Kunijiro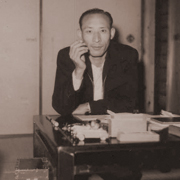 I love making lighters. I enjoy and I learn everyday in doing it. Life for me is to produce lighter that is nearly handcrafted. Introduced in this web-site are those I like better during the past 60 years because they look more like a lighter than a lighter. I feel grateful if you would keep using Sarome lighters for a long time.
I named myself as a cigarette lighter craftsman.
SEGAWA Kunijiro, the Chairman of Sarome Co., Ltd. was passed away on November 16, 2000 at age of 82. We, all at Sarome, wanted to thank you all for the patronage kindly extended to Kunijiro during his life.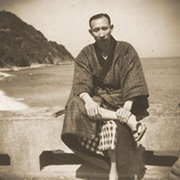 Cigarette lighters were firstly appeared on the market at around the end of World War II. At that time, the young Kunijiro was in the toy business and when he saw the lighter at the first time, he admiringly yelled "I want to make such a thing." Cigarette lighters in that period were oil lighters of various shapes on the market. At that time, Japan was famous with its precise press work and products with sense of fun had big attraction. With the lighter's appearance like a piece of art, plus un-explanatory feeling in hand, a cigarette lighter was a great temptation to capture those people who saw it at the first time.
Through his experience in toy business and the great failure from the trail production of cigarette lighter, Kunijiro clearly understood to manufacture lighters was not an easy business. With this in mind, superior quality became the basis policy of Sarome. Since then, Kunijiro persisted high quality in Sarome lighters during his 60 years in the lighter industry.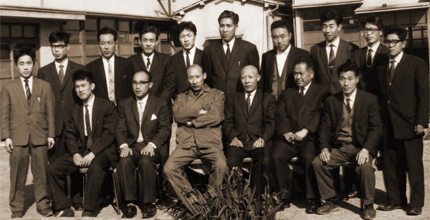 Kunijiro was also named as "Oyassan" (The Head) by the engineers in the factory. Inherited from "Oyassan" (The Head) the tradition of 60 year persistence in superior quality, we will continue this as our basis policy to set up our goal for the next generations to come.