Our Craftsmanship
Background behind the establishment of Sarome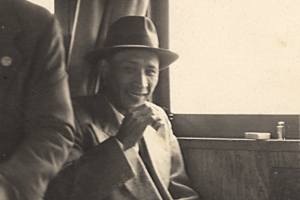 Kunijoro Segawa started press working and sheet metal working in 1940. Major job at that time was tinplate working, and lighters were not manufactured. While doing tinplate working, he was asked to make a tinplate sheet to be put under a table lighter. He took a look at the table lighter to be put on the tinplate sheet he was going to make, and thought that it did not look good. Then he began to make a lighter by himself. This is the commencement of lighter manufacturing. Since then, he had been engaged in manufacture of lighters until the evening of his life, continuing active work as a lighter craftsman.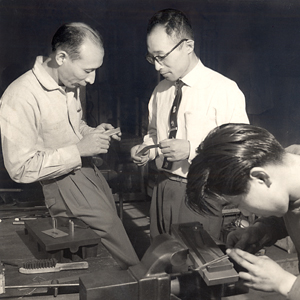 1945-1955. Kunijiro and a craftsman filing a jig and checking a ruler. Back-street factories at that time did not have wire cutters, discharge machines, or other sophisticated machine tools, and all jigs used for press working of lighters were all made by hand. Filing work to make jig completely flat was dependent on the skill of a craftsman.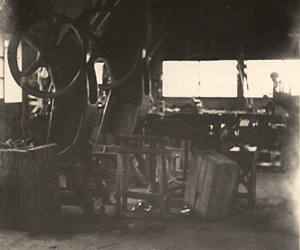 Press workshop in Yahiro, Sumida-ku at the time of foundation.
Three persons were involved in the foundation of the shop, being engaged primarily in tinplate working.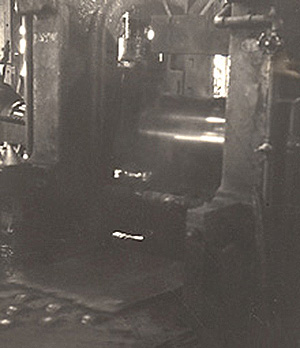 As in the past, lighter making begins with cutting a brass sheet.
Lighter parts are completed through punching, marking, bending, soldering, and many other processes.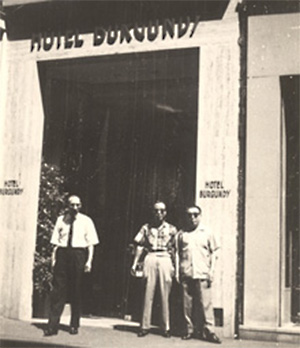 A photo taken around 1955 when Kunijiro visited Paris. Since there was no jet plane, he took a propeller airplane to go to Europe spending a lot of time. Japanese products had not been accepted just because they were made in Japan at that time even if the quality was excellent.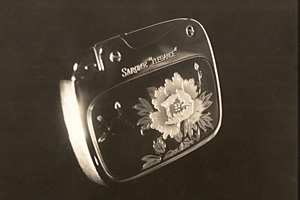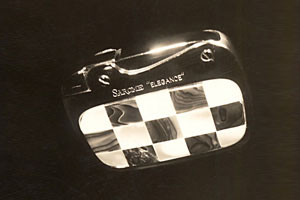 SAROME "Elegance" released in 1954-1931
Lighters with a unique episode. They were developed taking a cue form black-and-white TVs that were in fashion those days. It is a surprise that shellwork, enameling, and other techniques that are used today were already used those days. Brass sheets are soldered to make a box shape, and soldering marks are removed by handwork, finishing with plating. What is now called drawing was not adopted. The structure was the bane of craftsmen, because the finishing work is troublesome and poor soldering causes fuel leakage. Oil lighter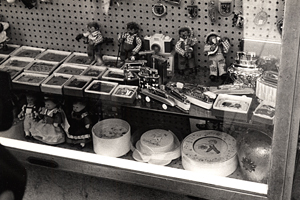 "Blue Bird" and "Cruiser" released in 1959-1960
May of them were displayed at retail stores in the U.S. and Europe. They are still in the antique market as SAROME's products. Those products developed by using the tinplate working techniques acquired during the birth of business were real winners in North America. Since we have only a few products of these types, those in the antique market are true articles of value.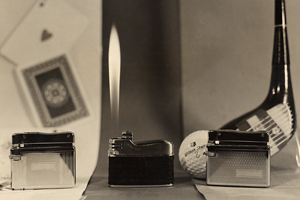 We started development of gas lighters for the first time in Japan, but our competitor was successful in commercialization earlier than our company. Free control of the flame length was epochal technical innovation at that time. Since air tightness of the gas tank is directly related to the quality, SAROME that had been aiming for top quality in its products began to make all-out efforts to develop high-quality gas lighters.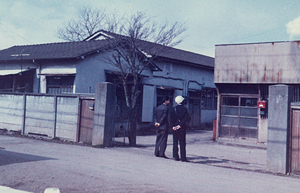 Miyama Factory in Funabashi constructed newly in 1960
Craftsmen were trained in this place where the present head office of SAROME exists, consolidating the foundation of the present gas lighters.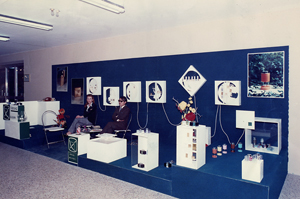 Exhibition in Europe around 1970 One of the men in the photo is Takaaki (the Present President of SAROME), the first-born son of Kunijiro. He established an agency system in Europe to deal in gas lighters primarily. In the context of the global market where Japanese products began to be accepted at that time, SAROME started full-scale global expansion. IC lighters, battery lighters, jet flame turbo lighters, etc. unique to Japanese technology began to be developed one after another thereafter.